Home

Augmenting Therapeutic Effectiveness through Novel Analytics

The path forward in personalized medicine is about connecting...
Connecting data hubs, connecting institutes and connecting partners
ATHENA (Augmenting THerapeutic Effectiveness through Novel Analytics) is a collaborative network which brings together a unique, multidisciplinary and complementary partnership of academia, hospitals and industry who explore and use the concept of machine learning for the realization of predictive analytics in oncology. By creating a federated and standardized analytics platform, it will be possible to combine different data types in one predictive model. It will allow access for partner hospitals and industries to detect and validate new therapies, while fully preserving the privacy of patients.
ATHENA brings together experts in the field of data integration and analysis, allowing participating medical centers to utilize their patient data to optimize care
Treatment of cancer is currently insufficient, inappropriate and heavy on side-effects for many patients. So, what is hampering research in finding novel and adequate therapy strategies for everyone who needs it?
A typical methodology to obtain novel insights in diagnosis, progression or treatment of disease is to set up defined clinical studies. However, the small number of participants – and thus patient data – limits the variability in the test population and thus the relevance and applicability of the results to a broad audience (Sherman et al., 2016).
Clinical studies only cover a selection of the population, leading to biased care recommendations that do not apply to everyone
A promising novel strategy to overcome this obstacle is to include virtually all data from patients suffering from a certain condition in research thereof. This so-called real world data (data obtained from patients in a standard clinical setting of care) allows for the discovery of different patterns of disease progression and drug response, through machine learning (Shah et al., 2019). Early identification of these patterns in patients, will lead to an optimal diagnosis and treatment strategy, adapted to the patient's needs and aiming at maximization of survival rates.
Machine learning allows us to recognize patient markers invisible to the naked eye and link them to diagnosis and treatment outcome
ATHENA is supported by VLAIO (ref. HBC.2019.2528)
Changing the landscape of medical care, step-by-step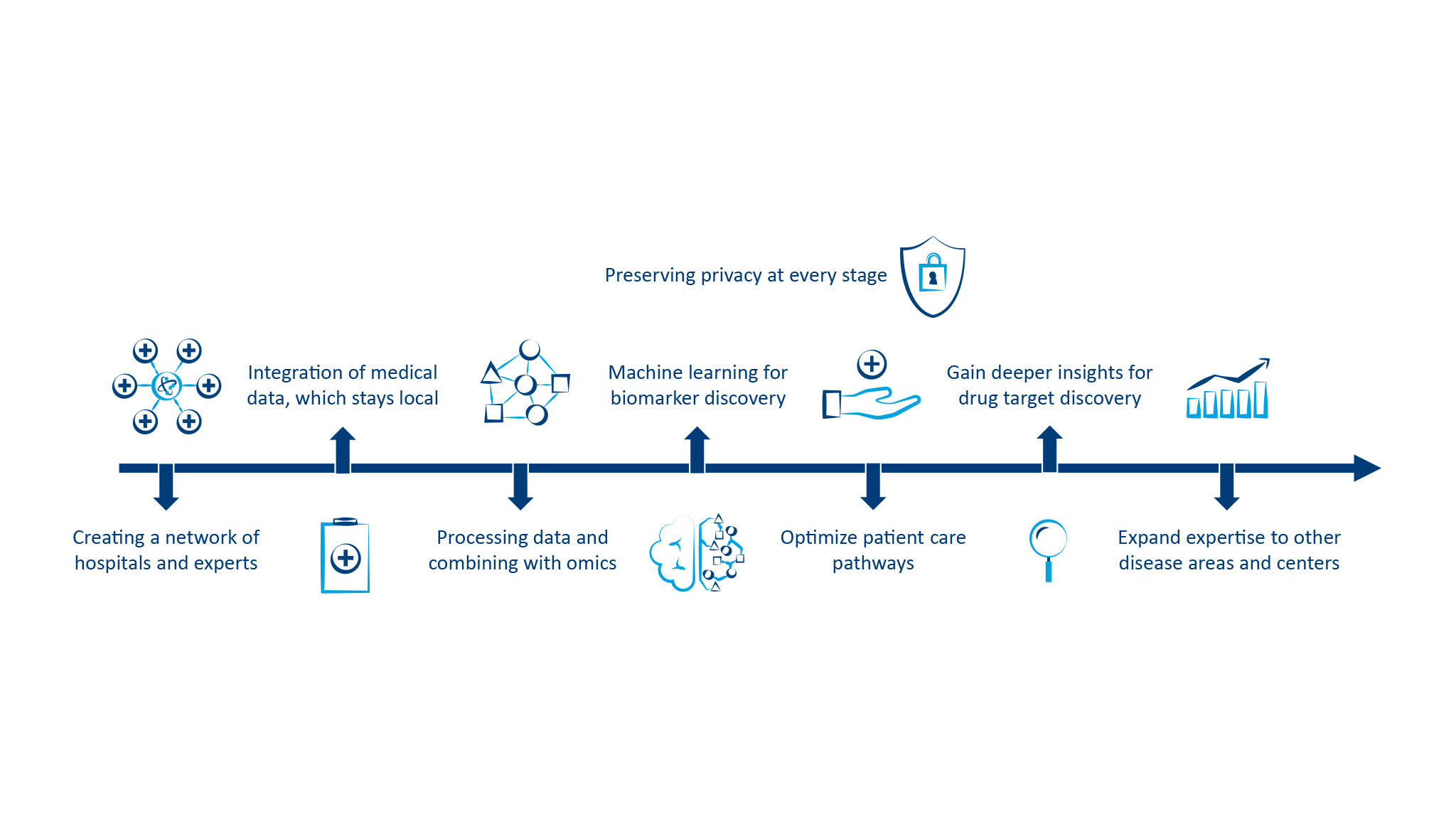 Benefits for everyone involved
EM-103424 | DATE OF PREPARATION: JUNE 2022